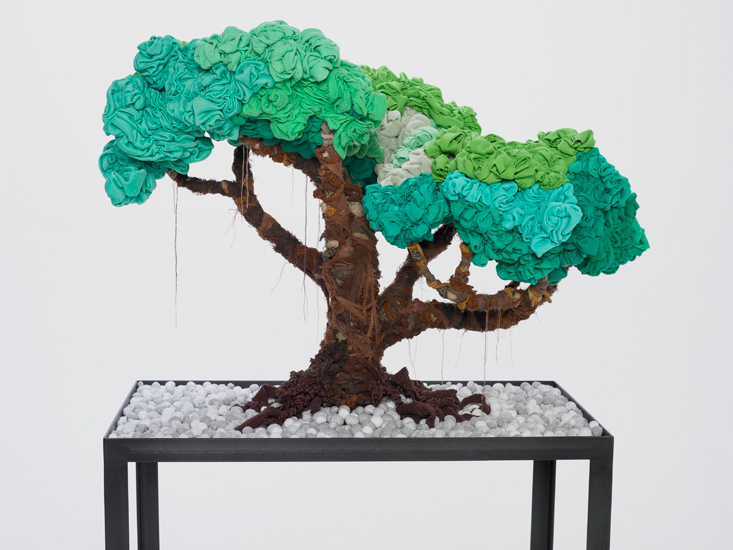 A real combination of art and fashion. I'm absolutely in love with these. Everything used is made from clothing. I love the artistic concept of it and the reusing of clothes and recycled objects as art. I also love the bonsai trees, so lovely, wish I could have one of those in my home!
What do you think? See more of this duos work
here
!
Also, I've got another award, YAY!
Thank you so much
Gina
!! I'm so happy to get another award, it tells me that I'm doing something right as a blogger. :)
The Rules:
1. Thank the person who gave you this award. 2. Share 7 things about yourself. 3. Pass the award onto a few bloggers who you have recently discovered. 4. Let these blogs know that you have awarded them the Versatile Blogging Award.
Uh oh, another random list about myself. haha.. I guess this is good since I can't really describe myself very well, gives me a chance to be more articulate.
1.
Laughing
is one of my favorite things to do. I'm so easy to make laugh. And I think everyone is really funny. And I'm so ticklish its ridiculous. haha.
2. I cannot live without
french fries
. They are my staple food. I don't eat them as often anymore because there not so healthy but I eat them when I can.
3. I like making people
happy
. So I typically have a hard time saying no to people especially those I love. But I'm working on that!
4. I believe that every person has the
potential
to be better, and improve their own circumstances, whatever it may be.
5. I think that every human being needs to
love
themselves first. I know, I know, so cliched or whatever, but true.
6. Sometimes I just want to be a singer. I love to
sing
, and it makes me happy when I sing. Although, I can't remember lyrics unless I really read the lyrics and repeat it everyday, but some days I wish singing could be my occupation.
7. I love collecting random notebooks, and stationary things. Even though most times I never ever completely finish using a notebook. Well, I do for my personal journal.
Lastly I nominate five blogs that I have recently fallen in love with:
WobblinBetty
;
Fromskirtstoskillets
;
Bruklyn Belle
;
Bisousmonamour
;
Aki No Yuutsu
And if you have read all of this so far, congrats and thanks! :) But I also got my IFB account up and running,
visit me and friend
! For some reason, I can't friend anyone! Any suggestions?
Probably the longest post ever.