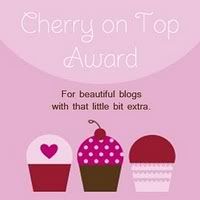 Thank you so much
Ashley
for this wonderful award, this is my third award, and I'm so happy to receive it!
1. Thank the person that gave you award.
2. Copy the award and put it on the blog.
3. List 3 things you love about yourself.
4. Post a picture you love.
5. Tag 5 people to pass the award on to.
3 Things I love about myself:
1. I'm motivated and passionate about life. And I try my hardest to work towards my goals and accomplish things.
2. I'm a really loyal person in friendship, in love, in dreams, in beliefs. So if we ever become friends, I'm seriously a friend until the end, but if someone doesn't value my friendship or me the same way I value them, I tend to step away.
3. My willingness or ability to change. If I feel like I have a problem, or if a situation makes me unhappy I find a way to change it. Or if I do something that hurts myself I have the ability to change it too.
A photo I love: (This was really difficult to decide since I love so many!)
Just some random adorable kids playing, and laughing, I found it online a while ago.
I tag these lovely lovely bloggers:
1.
Pluww
2.
The Sentimentalist
3.
fascination drop
4.
Free Honey

5.
Heavy Words. Lightly Thrown.
Happy Saturday ya'll!! I'll be staying in today, recovering from the last of my wisdom teeth being removed!! And here's a fabulous giveaway for your lovely weekend!! :)
WWW.DONNAROMINA.BLOGSPOT.COM
Werde regelmäßiger Leser von DonnaRomina und Gewinne eine Ray Ban Sonnenbrille! Klicke einfach auf das Bild