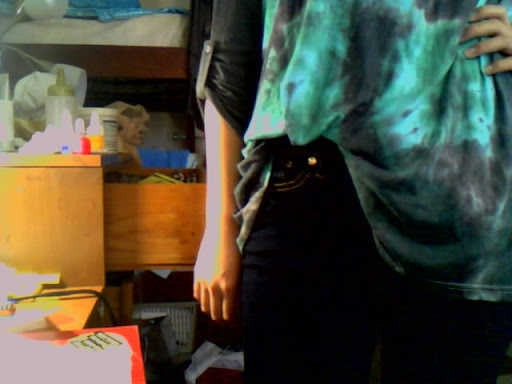 Tie Dyee!! :D I was in a really happy mood the other day, and this is what I wore. Something flowy, comfy and cute. 
Sometimes when I wear this shirt, I feel like I look wierd.. butttt.. comfort over the wierdness feeling. :)
Updates on my life:
Still the same, pretty busy. But I'm excited, I'm volunteering for a fashion show tonight at the Ritz Carlton! 
Not much going on right now, except that I'm glad its Saturday and finally, sorta, have time to blog. Right now, I'm working on flats for tenniswear for my product development project. Once the project is completed, I'll make a full post about it. It's really a challenge. But I love a challenge. :) 
And I'm still loving my internship at this time. And it's a bit scary how fast the spring semester is approaching. This winter break, I'm planning to sew a lot, and hopefully a photoshoot, and travelling to NY. And job searching, and resume fixing. :) Its like my life isn't about to stop anytime soon, and I love it, but it can be quite exhausting. 
<3 
I miss you guys!! How have you all been??