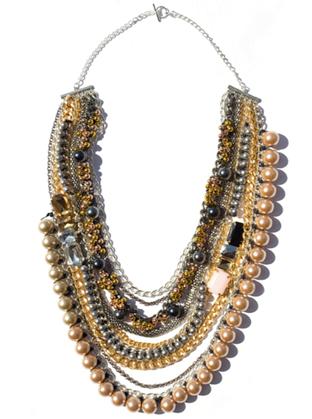 Chockers are the IT thing this coming season. An idea is to wear a brightly, colored chocker under button ups. The idea is to wear them underneath the collar, to replace a tie! I think that's pretty damned clever I discovered the idea from
Refinery29
. And I found a few chockers that I would love to have!! I think chockers, are just really great ideas to wear with simple tops with a crew cut or strapless numbers.These are definitely statement pieces that will help you stand out!
1, 2.
Intermix
3.
ten thousand villages
4.
Assad Mounser
5.
Shadow Play
OTHER THANGS:
+ I just got spotlighted by Melanie from Those things they said, Read it
here
! Oh, and she's always on the look out for some amazing lovely blogs out there, so
check it out
, if your interested in getting featured!
+ I'm really excited about my Product Development class project!! Ah, haha.. I've never been so excited for a class before. And I'll write more about it another day. But so far I'm really loving this semester.
+ I have about maybe 2000 blog posts to read combining my google reader and bloglovin. I started looking at them on Monday.. and honestly, I was so delirious from being up from 6 am to midnight. Exhaustion! But I slept amazingly well.
+ Again, thank you so much for your lovely words of encouragement and comments.
Hope your week is going lovely!! <3